Analogue "Prestarium": a description of the drug
The drug "Prestarium" - a medicine that is included in the group of ACE inhibitors. There are many similar drugs in their mechanism of action. One of these drugs is the drug "Kapoten" - an analogue of "Prestarium". Active ingredient - captopril. The drug helps to reduce total vascular resistance, reduce afterload, blood pressure. In addition, the tool reduces preload, reduces pressure in the pulmonary circulation and the right atrium.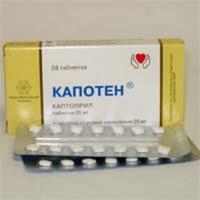 Indications
The analogue of "Prestarium" - means "Capoten" - is prescribed for arterial, including renovascular, hypertension, chronic heart failure (as part of complex treatment). The indications also include violations of the activity of the left ventricle after a heart attack in a stable (clinically) condition, diabetic nephropathy on the basis of type 1 diabetes.
Contraindications
The drug "Capoten" (similar to "Prestarium") is not prescribed for hypersensitivity to the components of the tool or other ACE inhibitors.Contraindications include angioedema, marked disorders of the kidneys or liver, bilateral renal artery stenosis, hyperkalemia, and condition after kidney transplantation.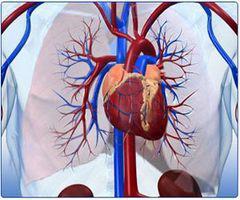 It is not recommended to use the drug during pregnancy, during childhood and during lactation. Caution during treatment should be observed in the presence of autoimmune pathologies of connective tissue (scleroderma, systemic lupus erythematosus), diabetes mellitus. Dose adjustment may be required for patients on hemodialysis who have primary hyper aldosteronism, coronary artery disease, conditions complicated by a decrease in blood volume, as well as elderly patients.
Dosing regimen
Means "Prestarium" (tablets) is administered once a day, 4 mg. In case of treatment failure, the dose may be increased to 8 mg once a day. The analogue of "Prestarium" - means "Kapoten" - is assigned individually, taking into account the tolerance and severity of the disease. The medicine is taken before meals, in an hour. The initial dosage for arterial hypertension is 12.5 mg twice a day.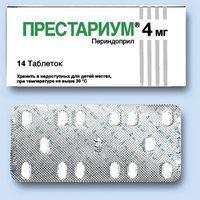 If necessary, increase the dose (with a break of two to four weeks) to obtain the necessary therapeutic result.
Adverse reactions
The analogue of "Prestarium" - means "Kapoten" - can provoke orthostatic hypotension, peripheral edema, tachycardia, pulmonary edema, ataxia. The undesirable effects of therapy include bronchospasm, dry cough (resolved on their own after discontinuation of the remedy), hyponatremia, hyperkalemia, dry mouth, upset taste, diarrhea. On the basis of treatment can be observed stomatitis, swelling of the face, larynx, tongue, drowsiness, dizziness, visual disturbance. Undesirable effects also include an increase in liver transaminase activity. In case of overdose, the intensity of side effects increases, the pressure decreases sharply. In such cases plasma-substituting solutions, hemodialysis are used as therapy.
Related news
Analogue of Prestarium: drug description image, picture, imagery