Blue Orchid Phalaenopsis: Myth or Reality
Blue Orchid, Phalaenopsis in mind, has long been sold in flower shops. However, this is a kind of deception, as the flower was originally white, and it was painted and a blue dye was injected.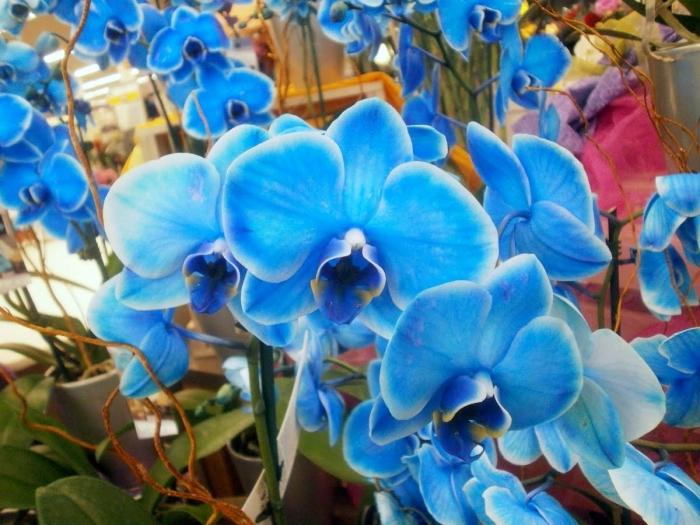 Japanese raised blue phalaenopsis
Phalaenopsis lacks the gene responsible for producing the blue pigment. But in nature, blue flowers are not uncommon. For many years, researchers and breeders tried to grow real blue orchid phalaenopsis. After various experiments, it was succeeded by gene engineers from Chiba University in Japan. They used a gene from Asian commelines (grown in Asia and Africa), which gives it a blue color, and took Aphrodite as a base. Newly created blue orchid has flowers smaller than those of hybrid analogues, only 5 cm in diameter, but they can bloom a lot on the peduncle, up to 30 pieces. Wonderful plant received the name "Phalaenopsis Aphrodite - Royal Blue."In the wide sale of it, of course, not yet.
Blue Phalaenopsis on sale
Blue orchid, standing on the shelves of shops, this plant is crippled. If you look closely, the injection site can be identified. In some plants that are relatively lucky, it is on the peduncle, in others, less fortunate, in the stem or roots.
Abroad, where blue orchids are "produced", they are considered as temporary, disposable interior decorations. After losing the original beauty, they are simply thrown away. And Russian flower growers are pitiful people, they want to leave the diseased plant. And the fact that the next flower stalk will be white does not stop them at all. There is a category of people who like the process of resuscitation of plants, they bring dying specimens or they buy discounted orchids, and the question is not only in money.
New Orchid in the house
If you have a blue orchid, then it will need to pay some attention. Initially inspect the roots. If the root system is good, then there is no need to replant. If there are few healthy roots and the bulk is rotten, dry, damaged,That transplant is needed immediately.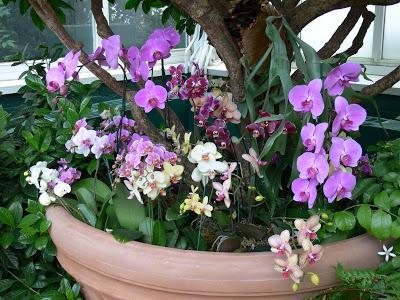 Transfer
Soil can be purchased special or mixed pine bark with charcoal in the ratio of 5: 1. The bark can be collected from fallen trees, not rotten. Before use, it must be boiled, cooled. Carefully remove the plant from the pot. Cut all dry, rotten (to healthy tissue) roots. Place cuts sprinkled with ground cinnamon. If there are almost no healthy roots, then it is better to cut the peduncle, it will last a long time in water. Wash and disinfect the pot thoroughly. It is desirable to make holes in the walls in order to facilitate the access of air to the roots. In phalaenopsis, they are involved in the process of photosynthesis. Pour drainage on the bottom, immediately install a support for the peduncle, add prepared soil. Locate the treated plant and fill the ground.
Conclusion
If the peduncle was cut, the blue orchid turned into a phalaenopsis mix. Caring for her need the appropriate genus.
Related news
Blue Orchid Phalaenopsis: Myth or Reality image, picture, imagery