Braised cabbage with potatoes - the best recipes
Braised cabbage is a nutritious dish of Russian cuisine
Braised cabbage is one of the frequently prepared daily meals in many families of our country. This traditional Russian delicacy is distinguished by excellent taste and richness of healthy elements in its composition. Prepare it with a wide variety of additional ingredients: mushrooms, meat, vegetables. This article suggests recipes for making dishes such as braised cabbage with potatoes, beans, rice. Such options can be as an everyday meal, as well as a festive delicacy. Enjoy reading, inspiration and excellent culinary results!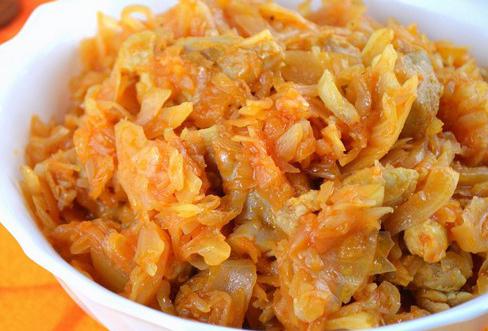 Stew cabbage with potatoes and meat (a classic recipe). Preparation stage
For the preparation of such a tasty and hearty dish, like cabbage with potatoes and meat, you will need the products indicated in the following list:
1/4 of medium sized white cabbage;
1 kilogram of potatoes;
Half a kilo of pork;
2 bulb bulbs;
1 carrot;
spices, salt according to your preferences;
fresh parsley and dill;
100 grams of water or broth (meat, vegetable);
50 grams of vegetable oil.
Stages of cooking the Russian dish "Stewed cabbage with potatoes and meat"
Meat cut into small pieces - about 3x3 cm. In a deep frying pan or sauté pan, heat the oil. Put the meat in it and fry until light brown crust. Perform this action on a fairly high heat. If the meat is cooked slowly, moisture will evaporate from it and the product will be dry.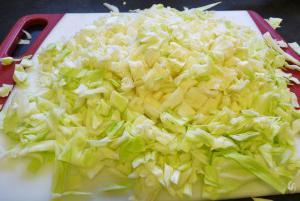 Peel the onion, chop finely. Add it to the already roasted meat. Mixing from time to time, simmer this billet until the onions are browned. Now it's time to lay a carrot in the dish. It must first be cleaned and chopped on a grater. Salt the dish and simmer another 10 minutes over low heat. In the meantime, prepare the potatoes. Clean, rinse and chop it into slices. Pour the potatoes in a saucepan, pour back the same broth or boiled water. To taste add your favorite spices and salt. As the billet warms up, chop the cabbage into a straw.Put it in a saucepan to all other ingredients. Greens, washed and shredded, also enter in the dish. Extinguish it until tender. Try on potatoes, it should be soft. Remove pan from heat.
Cooking Tips
The cabbage and potato stew recipe presented above suggests pork. But instead you can use any other meat: chicken, veal, turkey, offal. This delicacy will be very tasty if you cook it with smoked cartilage (pig ears, tail).
After the dish is removed from the fire, do not rush to lay it on plates. Let the delicacy stand for about ten minutes so that all its components "make friends" and their flavors come together.
Served with stewed cabbage and potatoes as a main course. In addition to it, you can offer a salad of fresh vegetables, sour cream, pickled mushrooms.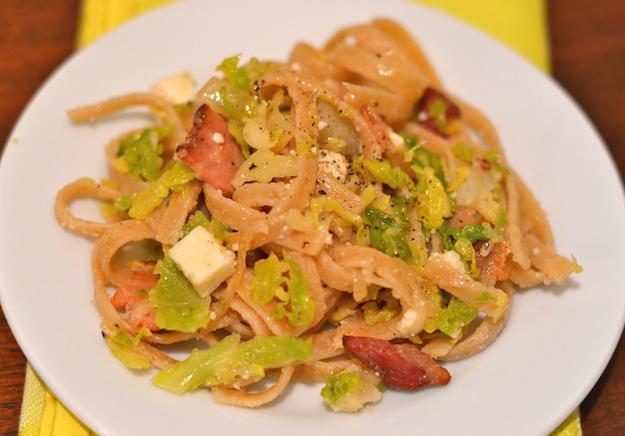 Sauerkraut: how to chop it with potatoes? Recipe for cooking savory vegetable dishes
In order to prepare this delicacy, rich in vitamins and useful elements, stocking up the following products:
200 grams of sauerkraut;
4 large potatoes;
2 fresh carrots;
1 large onion;
a few sprigs of dill;
several spoons of vegetable oil;
ground pepper;
laurel leaf.
A description of how stewed sauerkraut with potatoes is prepared is read below.
Cooking Guide for Vegetable Stew
Chop the onions with a knife and grate the carrot. In a pan in the vegetable oil (medium heat) fry these vegetables for 2 or 3 minutes. Remove the cabbage from the brine, fold it in a colander or strainer and rinse under running water. When the liquid is gone, put this valuable fermented product in a pan with onions and carrots. Cover with a lid, extinguish the billet for a quarter of an hour. Peel the potatoes and cut them into cubes or plates. Pour it into the pan, mix the ingredients together and continue to quench them. Keep the dish simmered until the potatoes are fully cooked. If the liquid quickly boiled away, you can add boiled water. The finished delicacy is served with mayonnaise, sour cream and greens. Such cabbage stew with potatoes has a pleasant sour taste and flavor. Bon Appetit!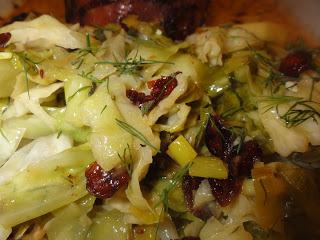 Braised cabbage with beans - a dietary tasty side dish
The dish, prepared according to the following recipe, is rich in proteins and carbohydrates. Its use enriches the body with beneficial trace elements, gives the body strength and energy. It can be eaten at any time of the day.
In order to fulfill this vitamin side dish in your kitchen, you need the following ingredients:
fresh beans;
White cabbage;
bulb;
garlic;
carrot;
tomato paste;
seasonings;
salt;
water;
sunflower oil (can be olive).
How to chop cabbage with beans? Process description
200 grams of beans, cover with water and leave for some time (you can and at night) swell. Then drain this fluid. Put the beans in a saucepan, add pure water, put on the fire. Boil the bean product until it is soft (about an hour and a half). Empty the excess liquid, salt the beans. Chop cabbage into small straws, onion - half-rings, and carrot - grated. Put all these vegetables in a saucepan, add beans and butter to them. Simmer the billet on low heat for about half an hour under the lid. Periodically remove it and mix the dish. Before turning off the fire, put in the vegetable mass greens, spices and garlic, chopped very finely (you can skip it through a press). Warm up the dish for another 5 minutes, and then remove it from the stove.Treats can be eaten both hot and cold.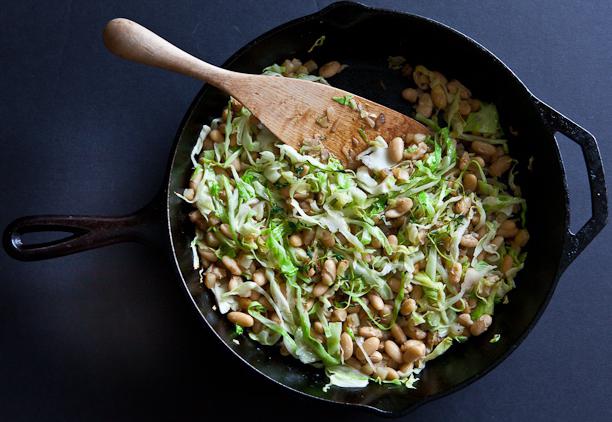 Rice, cabbage and a lot of vegetables - prepare a nutritional side dish for the whole family
The dish, which can be performed according to the recipe proposed in this part of the article, will appeal to both small and adult members of your family. It will be a great addition to fish or meat. But in itself, this delicacy is very satisfying, so it can also be an independent dish.
Braised cabbage with rice is prepared from the following grocery set:
White cabbage;
round rice;
carrot;
tomato juice;
onion;
water;
vegetable oil;
fresh greens (any);
spices and salt.
Instructions for the implementation of rice dishes and vegetables
Chop a small head of cabbage into thin strips. Carrots, peeled and washed, chop first into circles, and then divide each of them into four parts. Onion cut into pieces. Heat oil in a pan. Pass in it carrots with onions before browning. Then add cabbage to them. Fry the vegetables for about 10 minutes on low heat. Put the billet in a saucepan with a thick bottom, add the tomato juice, some water, washed rice, salt and seasonings.Stew dish under a closed lid for half an hour. Try the rice readiness. When it becomes soft, turn off the fire. Let the garnish brew for a while. Serve the dish to the table, decorating it with greens. For stewed rice, you can also offer cutting from fresh vegetables or salad.
This dish is great for kids. From the age of 2, the baby can safely enjoy this vitamin delicacy.
Related news
Braised cabbage with potatoes - the best recipes image, picture, imagery