Cream of cauliflower. Step by step recipe
Cauliflower cream soup is light and will surely appeal to all your family members. Read the recipes of its preparation and surprise your relatives with new tastes.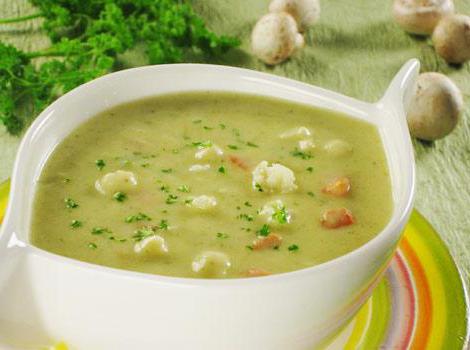 Cream of cauliflower cream
This dish has a delicate and pleasant taste. Cooking the soup does not take you too much time, but the result will surprise you. The recipe is:
Peel one onion and one large potato and cut into cubes.
Cooked vegetables fry in a pan in vegetable oil for two minutes.
Add 500 grams of cauliflower. Add one liter of chicken broth to the food and cook until ready.
Using a blender, chop vegetables, add 100 ml of high-fat cream to the soup, as well as salt and spices.
Boil the soup, then remove it from the stove and pour it into plates. Decorate each serving with cauliflower inflorescence and pink pepper.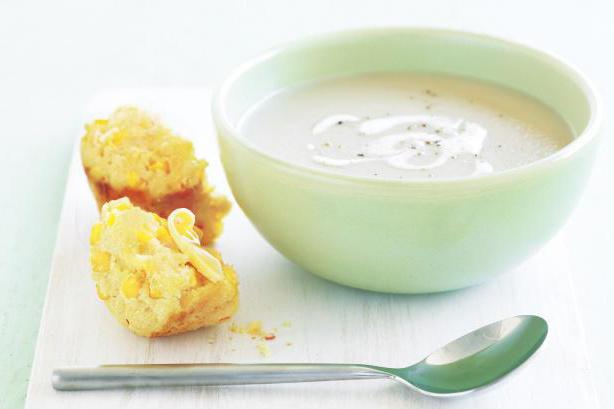 Cream of cauliflower with cheese
This recipe can be called a classic, because the composition of the dish includes traditional heavy cream and grated hard cheese. Cooking cauliflower cream soup is quite simple. For this you will need:
Take a cauliflower head (about 800 grams), disassemble it and boil it in salted water until ready. After that, drain the excess water and temporarily set aside the cabbage.
Peel one onion, finely chop it and fry in a thick-bottomed saucepan in butter.
Two potatoes and one carrot cut into cubes. Add them to the onions and simmer together for some time.
Pour the vegetables with half a liter of water and cook them until tender.
Add cauliflower to the pan and chop everything with a blender.
Pour 100 ml of cream into the soup, add salt, pepper and 100 grams of grated cheese.
Wait until the soup boils, then reduce the heat and cook for a few more minutes. After that, immediately pour it into plates and serve it to the table with croutons made from white bread.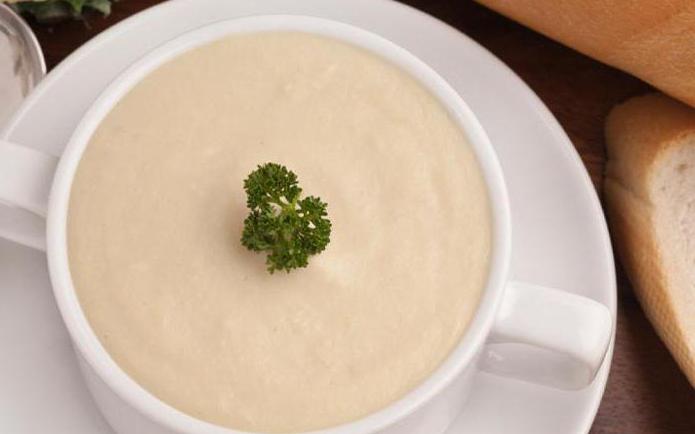 Garlic Cream Soup
The unusual taste of this dish will not leave indifferent any member of your family. Garlic will give the soup a special piquancy,and the potato will make it more satisfying. How to make cauliflower cream soup? To do this, carefully read the recipe and feel free to get down to business:
In a saucepan, melt over a slow fire two tablespoons of butter.
Peel, chop and fry one onion and four cloves of garlic.
After a few minutes, when the vegetables become transparent, add to them peeled and diced potatoes (two large tubers), as well as two shredded carrots. Cook all together for a while.
Pour 800 ml of chicken or vegetable broth into the pot and bring it to a boil.
Disconnect one cauliflower of small size into florets and send them to the rest of the vegetables in a saucepan. Cook the soup on low heat for about half an hour, until the vegetables are softened.
Remove the pan and chop its contents with a blender. Return the soup to the fire, add a glass of milk, salt and nutmeg to taste. If you wish, you can add a tablespoon of sherry or some fortified wine to it.
Pour the soup, decorate it with sprigs of fresh greens and serve it to the table.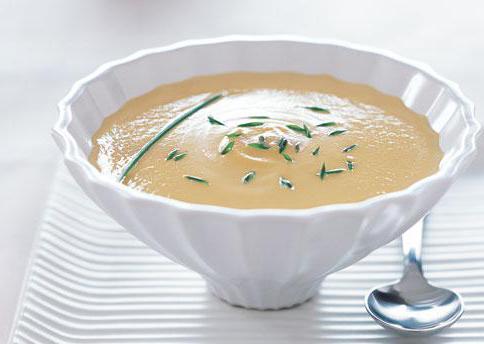 Chicken Cream Soup
This dish will delight you in warm weather and will warm you well during the cold weather.The classic combination of vegetables and chicken makes the soup taste good. To make cauliflower cream soup with chicken, we will need:
Wash and peel one carrot, one onion, celery stalk, three cloves of garlic and one small cauliflower head.
Wash one chicken breast (with skin and bone) and place in a saucepan with water.
Put the onion into the broth, add the chopped carrots and celery, garlic and parsley stalks (a small bunch).
When the water boils, remove the foam from its surface, then dip a few peas of pepper into it and cook further over medium heat until cooked chicken.
Strain the prepared broth through a sieve into another pan, return boiled carrots to it, put the cabbage disassembled into inflorescences.
When the vegetables are ready, chop them with a blender. After that, return the soup to the stove, put 400 grams of crushed processed cheese into it, stir the broth with a whisk and bring it to a boil.
Arrange the ready soup in plates, in each place chicken, disassembled into fibers, and parsley greens. This dish can be served to the table with toast from a baguette or croutons.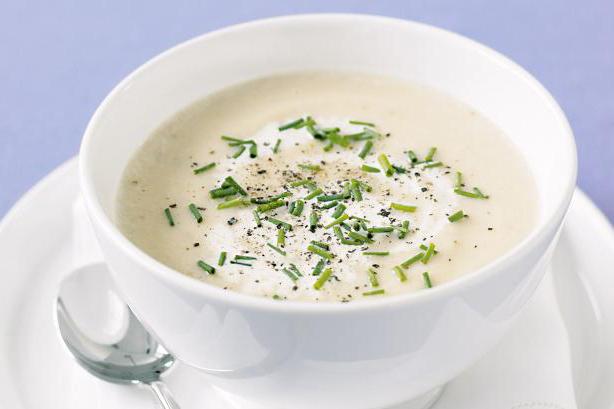 Cauliflower soup with red caviar
Cream soup, the recipes of which are radically different from each other, can be prepared using a variety of products. This time we suggest you cook a dish in chicken broth with milk. A special savor cream cauliflower soup will receive by adding red caviar. Read the recipe below:
Disassemble one cauliflower forks into inflorescences. The smallest ones should be lowered into the water entirely, and the first ones should be cut into pieces first.
Boil the cabbage almost to full readiness, and then remove it and cool it.
While vegetables are being cooked, melt 100 grams of butter in a skillet and fry leeks on it (only the white part).
Pour 500 ml of milk into the pan, put the cabbage and cook it on medium heat. After that, pour the chicken broth into it and continue cooking the cabbage until it is completely softened.
Remove the soup from the heat. Add salt and your favorite spices to taste, as well as 100 grams of heavy cream. Grind the contents of the pan with a blender.
Serve the prepared dish, spreading it out on plates, decorating each portion with crispy cabbage blossoms and red caviar.
Conclusion
Cauliflower cream soup is not only very tasty, but also a healthy dish. If you follow the figure, you can exclude fat cream and cheese from its composition. In this case, you will get a great dietary product that will help you recuperate and not gain weight. Cream soup, the recipes of which you will find in this article, is perfect for all members of your family, as well as for baby food.
Related news
Cream of cauliflower. Step by step recipe image, picture, imagery