Effective carpet cleaner
Today, in almost every home you can find a carpet. Such a product not only decorates the room, but also makes it more comfortable. Modern manufacturers of carpets offer their customers a large variety of carpets, they differ in color, shape and pile density.
Carpet has one negative feature - over time it wears out and fades. But do not hurry and throw it away. Modern means for cleaning carpets with success will help to reanimate it, clean it from dirt and get rid of odors.
Cleaning the carpet at home
In any store today you can find a large number of excellent chemical products for the care of carpets. But many housewives prefer to use tools made at home. Because such products are environmentally friendly and safe for health.
It is believed that on a new, just purchased carpet, the pile is not yet compacted. And for cleaning such a product, you can use a sponge or brush.After about two months, when the pile settles, carpet cleaning can be done with a vacuum cleaner.
How can I clean the carpet myself
In winter, it is useful to clean the carpet product in the snow, and at the same time it should be laid down at the beginning. Then you need to carefully knock out the carpet and clean it from the snow. After this, it is necessary to turn the product over and clean it additionally with dry and crumbly snow. In the summer, you can periodically knock out the carpet on the bar.
Home cleaning of carpets at home using a vacuum cleaner, damp cloth or sponge should be carried out continuously. If the product has a long nap, then such a carpet can perfectly clean the vacuum cleaner working with foam.
In this case it is necessary to clean it with slow movements along the pile. It is advisable to go through the same place several times. Special foam for cleaning carpets gently clean the carpet, without deforming the structure of the pile.
Over time, a carpet product with its beautiful appearance can begin to smell bad. This can happen for a simple reason - products tend to absorb extraneous odors, such as pets and food.In this case, a carpet cleaner bought from a store can help.
Self-cleaning products
One of the most popular among housewives means for cleaning carpets is "Shampoo 5+ Carpets". The product can be diluted to a foam or used undiluted as a stain remover. According to consumer reviews, this tool cleans most stains and is affordable. "Shampoo 5+" has no irritating smell, is antistatic and is suitable for washing vacuum cleaners.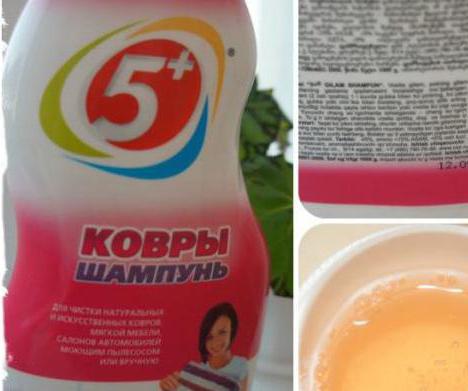 Domestic means "Drop Vox" gives a good foam that should be applied to the surface of the carpet product. In this state, leave to dry completely, and remove the residues with a vacuum cleaner. According to reviews of housewives, with the help of "Vox Drops" you can remove any dirt, while the tool does not require additional removal. With its cost-effectiveness, "Vox Drop" is an effective remedy that does not leave stains and smells good.
The best and inexpensive carpet cleaner is Help. Many housewives use this tool to remove complex stains. It is applied to the contaminated place as a stain remover, after a while the problem area should be wiped with a sponge.When using Help it is recommended to work in gloves, and after work to well ventilate the room.
Another popular tool is Udalix Ultra. Thanks to the enzymes and oxygen bleach that are contained in the product, you can clean the carpet from stains of coffee, tea, grease, sauces and dirt. The main advantages of this tool are that it is inexpensive and economical to use. But at the same time many housewives note its low efficiency in comparison with similar means.
Inexpensive, but effective stain remover is a means of "Selena Kovrol." With this product, you can even remove old and complex stains. But at the same time it is necessary to apply a lot of strength and strength. The advantage of this tool is its reasonable price, light smell and convenient spray. The main disadvantage is that "Selena Kovrol" is hard to wash off.
Means "Vanish"
Another remedy popular among housewives is Vanish. Today, this tool can be found in any store. "Vanish" can be of three types: dry powder, spray or shampoo. These carpet cleaners have their own rules of application.
The "Vanish" powder differs in the content and structure of elements that absorb particles and impurities onto the surface of the carpet product. There is also a "Vanish" for manual cleaning of carpets, the instruction of which says that the product is used without adding water.
In order to properly clean the carpet, it is necessary to rub dry Vanish powder onto a contaminated place with a sponge or brush. After a few minutes, clean this place thoroughly with a vacuum cleaner. This method of cleaning is especially effective when wet cleaning of a carpet product is undesirable.
To clean the dirt on the carpet locally, there is no need to clean the entire product. With the help of spray "Vanish" you can successfully remove the stain that appeared on any place on the carpet. This option is the easiest and fastest way to get rid of fresh stains.
To do this, apply a spray "Vanish" on the contaminated place and leave it for some time. Then wipe this area with a clean sponge. If the stain is not removed completely, the procedure should be repeated again.
Cleaning the carpet with shampoo "Vanish" is considered time-consuming, but also more effective.Improper use of the tool can not only disappoint the hostess with the lack of the expected effect, but even damage the product.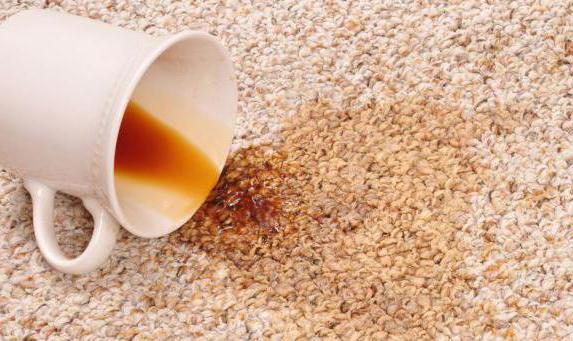 Shampoo "Vanish" for manual cleaning of carpets, the instruction of which warns that this tool can not be used on carpets with unstable color, is popular with hostesses. According to the enclosed instructions, the cleaning effect is not given by the liquid, but by the foam produced.
Conclusion
Before you start cleaning the carpet and using carpet cleaners, it is recommended to check the product for durability. To do this, on an inconspicuous site to carry out a trial cleaning. If the color of the carpet has not changed, then you can safely get to work.
Related news
Effective carpet cleaner image, picture, imagery