How to make fruit ice? Only proven recipes
In the summer heat, what only people do not do to cool off. And one of the most popular ways is to eat or drink something cool, but better all at once. This is where fruit ice helps out. Or, more correctly, sorbet. This dessert based on fruit puree and juice is great for enjoying it under the scorching summer sun. The only pity is that most of the goodies that are sold in the store, contain too many preservatives, artificial colors and flavors. But there is a great solution - to make fruit ice yourself.
The quickest recipe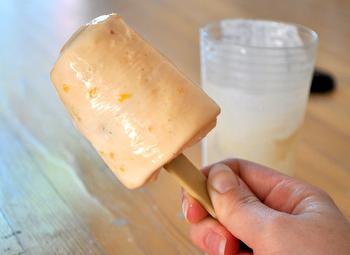 To prepare a cooling dessert at home does not take much time. 5 minutes and you're done! First of all, you need to take as many bananas as possible. A large company will need at least 6 pieces. In addition to them, other fruits and berries will be needed. Strawberries, raspberries, cherries or currants are best. But you can take apples, pears and peaches.The taste and color, as they say ...
With the help of a blender or just a fork, literally in 2-3 minutes you need to turn bananas into a uniform mashed potatoes. The rest of the fruits and berries just cut into pieces and gently mix with the banana mass, so that they retain their shape. Spread the mixture into ordinary plastic cups, stick ice cream sticks and put in the freezer for 3-4 hours. The mass should frost well and turn into ice. After that, we cut the plastic cups and get a treat, as if from a store, on a stick. Since fruit ice can be made quickly and easily, it will most likely be a frequent dessert on the home table. By the way, you can make it puff by adding different fruits and berries to bananas. It will be very interesting.
Berry ice cream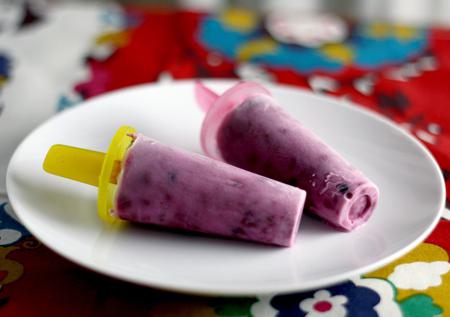 Those who lack the creamy taste of natural ice cream will definitely like this fruit ice recipe with berries and milk. Put 300 grams of any frozen berries (cherry, strawberry, raspberry, etc.), 2-3 tablespoons of the corresponding berry jam, 1/4 teaspoon of salt and 50 ml of water into a metal pan.Stir all this mass, bring to a boil and continue cooking for 10 minutes over medium heat. With the help of a blender, make mashed potatoes (you can leave some berries so that you can get pieces in the finished ice cream).
Separately boil 2 cups of milk (until the "cap", which just wants to escape. Meanwhile, beat 3 egg yolks with 2/3 cup of sugar until the mass turns white. It usually takes about 5 minutes. Add one third of the boiled dairy product to the yolks, mix and pour into the remaining milk on the stove. Boil another 4 minutes. Combine with berry puree, cool completely at room temperature. Pour into a suitable form and put in the freezer for 3-4 hours. As a result, you will not understand the taste - whether berry ice cream, or fruit ice. Let it be a mystery to guests and households. Serve dessert only in ice-cream bowls, making balls with ice cream spoon. This treat looks very interesting, and most importantly - delicious.
Granita with pineapple and champagne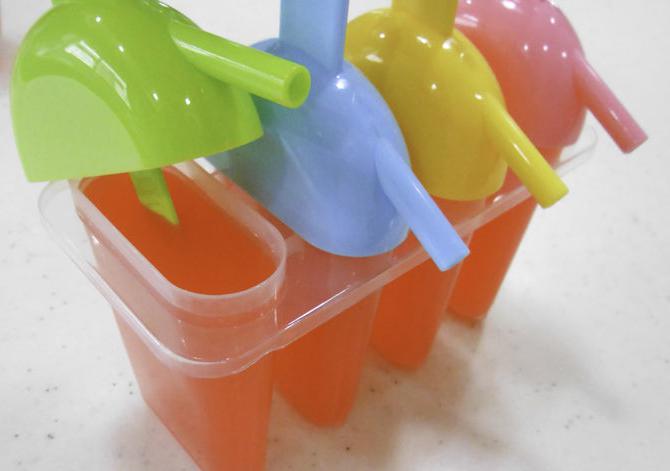 Sicilians have their own original way to make fruit ice. It is about such a delicacy as granite. It is made from various fruits with the addition of a small amount of alcohol. But the main thing is the appearance of the dessert: fragments of ice and pieces of fruit look very refreshing.So, what do you need for cooking granites with pineapples and champagne? Of course, pineapples themselves, champagne and sugar. This dessert of aristocrats!
Open 1 can of canned pineapples, drain the juice in any pan, add half a cup of sugar and cook, stirring, over low heat until the grains disappear. Pineapples, meanwhile, cut into slices and put in shape. Pour syrup and champagne into it. Mix everything, put in the freezer. But in order to get crushed ice, you need to stir granite every 30-40 minutes with a fork, until it completely hardens. Temperamental siitslitsy certainly know how to make fruit ice at home to cool in the heat. Climate them to this simply requires.
Kiwi Sorbet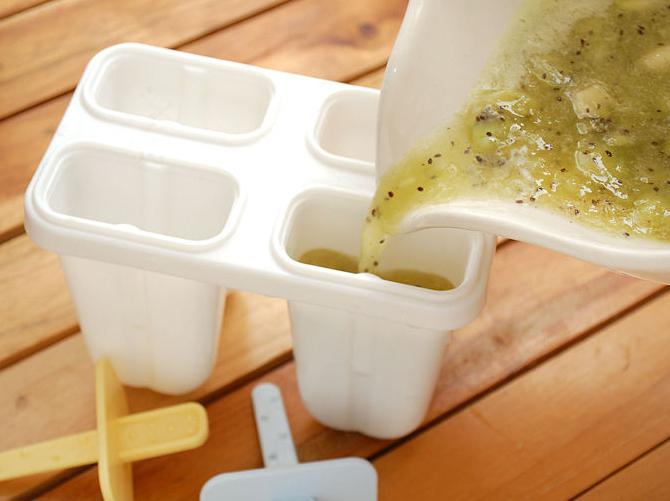 Exotic lovers will definitely appreciate the kiwi sorbet. Bright color and refreshing taste are two components of a win-win recipe. On a stove of 300 ml of cold water and 80 grams of brown sugar, boil a thick syrup. For this mass, stirring slowly, bring to a boil and boil for about 10 minutes over low heat. Separately, from peeled kiwi (you will need 5 pieces in total) and 50 ml of lemon juice to make mashed potatoes. Connect both masses and remove for 4 hours in the freezer.Stir periodically to avoid large pieces of ice. Knowing how to make kiwi fruit ice, you can easily enjoy a juicy dessert almost every day. And it is not necessary to do it only in summer.
Refreshing Strawberry Dessert
Strawberry is one of the most popular berries all over the world, it is possible and necessary to make fruit ice out of it. Moreover, it is very easy. To sort a strawberry, remove the stem and chop on a toothpick. Holding it, dip each berry in thick strawberry yogurt (you can add gelatin into it, previously dissolved in a small amount of water) and put it in the freezer until it hardens. Before serving, decorate the strawberry "candy" with chocolate or coconut chips. Just be sure to remove the toothpicks - they are no longer needed. This is probably the easiest homemade recipe for how to make fruit ice, but this does not make it less spectacular. After all, all ingenious is simple!
Banana Sorbet
This option is for lovers of not only bananas, but also citrus. It turns out one of the most refreshing desserts for the summer. It will take 1 kg of bananas, 400 grams of lemons, 200 grams of oranges, 200 ml of any juice and 150 grams of sugar. From this amount of 5-6 large portions of ice cream.What you need for true lovers of this delicacy!
Peel citrus fruits, remove bones and grind in a mashed blender. Separately, make mashed bananas. Connect both masses (this should be done quickly so that the bananas do not darken). Add juice and sugar and mix well. The resulting mixture is put in the freezer until it solidifies. It will take at least 5 hours, but it is better if the dessert stays there all night. In the morning you can enjoy the most delicate banana sorbet.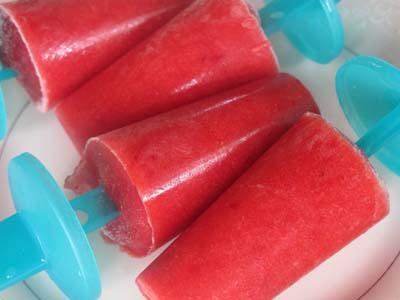 There are many interesting recipes for making ice cream - fruit ice at home. And all these desserts, of course, surpass the store counterparts in their taste qualities. In addition, it turns out a useful delicacy for children and adults.
Related news
How to make fruit ice Only proven recipes image, picture, imagery