Ledum is marsh. Application in therapeutic practice
Ledum rosemary - an evergreen plant from the heather family, growing in swamps, peat bogs and in wet, marshy coniferous forests of the middle and northern climatic zone of Russia.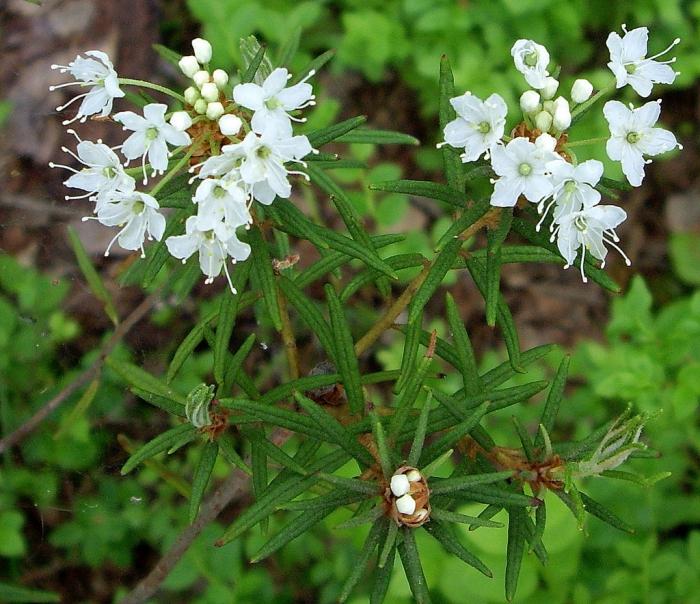 Other names of wild rosemary are forest rosemary, puzzles, marshy stupor, klopovnik, bagun. The leaves and stalks of the wild rosemary are rich in substances capable of exerting a therapeutic effect in a number of diseases, thanks to which preparations based on this plant have found wide application in medicine.
Ledum leaves marsh: composition and properties of active substances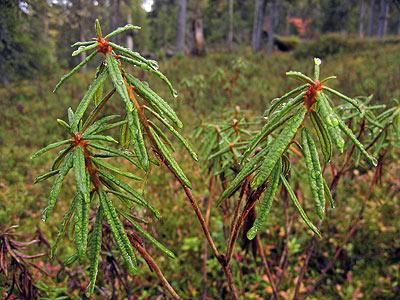 Multilateral effects of wild rosemary on the body due to the complex of active substances that make up the terrestrial part of the plant. The essential oil obtained from the shoots and leaves of wild marsh wild rosemary contains volatile substances (ice cream, tsimol, palustrol, etc.) with a bitter and burning taste and intoxicating aroma.Organic acids, flavonoids (quercitrin), glycoside arutin, tannins and vitamins are present in the leaves and shoots of the plant. The active compounds present in the preparations of wild rosemary have a moderate degree of irritant effect on the mucous membranes of the respiratory organs, activate the ciliated epithelium and increase the secretion of the bronchial glands. The active compounds of the wild rosemary is also an antispasmodic effect. Marked manifestation of pronounced antimicrobial activity. Expectorant, enveloping and antitussive properties determine the pharmacological effect of medicinal preparations made on the basis of the plant Ledum roseum marsh. The shoots and leaves contain substances that stimulate the higher parts of the central nervous system. Essential oil excreted unchanged in the urine has a disinfectant and diuretic effect on the urinary tract.
Ledum leaves marsh: use for the treatment of respiratory organs
Preparations of wild rosemary are prescribed as an antitussive, expectorant for chronic and acute bronchitis, whooping cough, tracheitis, laryngitis, as well as in complex treatment of bronchopneumonia and bronchial asthma.Acceptance of the infusion of shoots and leaves of wild rosemary leads to the dilution of sputum and accelerates its elimination, softens cough, has an antibacterial effect.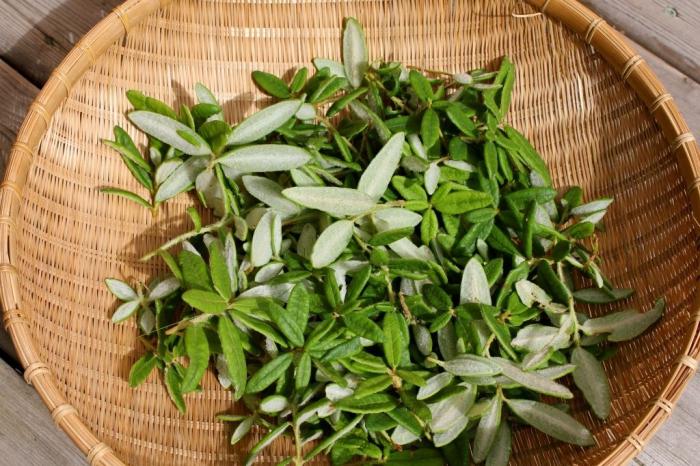 For successful treatment, it is recommended to drink an incomplete glass of infusion prepared from 10 g (2 tablespoons) of wild rosemary tea filled with 200 milliliters of hot water during the day in two to three doses. The composition in a water bath is heated for 15 minutes, then cooled for 45 minutes, after which the raw material is squeezed out and boiled water is added to obtain a daily volume of the drug (1 cup). Ledum marsh found application in the pharmaceutical industry, which has mastered the production of antitussive drug "Ledin" (Ledinum). These tablets are prescribed if the disease is accompanied by frequent dry cough. If wild rosemary is used in the treatment, it is necessary to be very careful with the dosage of the preparation, since the plant is poisonous and in amounts exceeding the recommended standard may lead to undesirable consequences, including depression of the central nervous system.
Related news
Ledum is marsh. Application in therapeutic practice image, picture, imagery