Painting Reshetnikov "Boys". Description and reasoning
Fedor Reshetnikov - an artist who wrote in the style of socialist realism. The main characters of his paintings are children most often. In the works he shows all the beauty of a simple boyish soul, with all its sorrows and joys.
Prehistory
Very interesting in his depiction picture Reshetnikov "Boys". The description of this canvas is best to start with the history of its creation. In 1971, almost all the children of the Soviet Union dreamed of space, because ten years had passed since the first flight of Y. Gagarin, and the exploration of unexplored spaces gained momentum. The artist in his work shows the entire passion of the children of that time.
Action picture
Reshetnikov's painting "Boys", the description of which I would like to start from the place where the guys meet, expresses the mystery and magic of the night sky. The action depicted in the picture takes place on the roof of a tall house.The boys are depicted in the center of the canvas, and behind them - the city, falling asleep at dusk. A single word about the sky is vast and mysterious, it takes most of the picture and beckons a look to itself.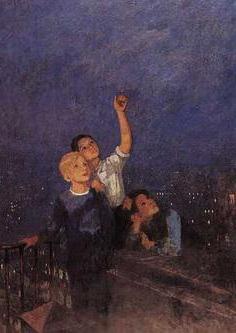 Three friends peer into uncharted outer space. Just look at the poses of the boys to understand that they are very different in character. And their thoughts are different.
One of the guys is a dreamer - he leaned on the parapet and looked at the sky with a thoughtful look. In his eyes are read thoughts about the unexplored depths of space, other galaxies and the possibility of exploring these worlds.
An older boy enthusiastically shows his younger friend to a point in the night sky. So you hear his story about the spacecraft, plowing the expanses of space, or the discovery of a new star. And his friend listens with enthusiasm to his friend. The surprise that flashes on his face suggests that he will learn something new from the story of his friend. And this new captures all his simple boyish creature. Reshetnikov's painting "Boys" - a description of the hopes and dreams of children of a whole generation.
Afterword
Fyodor Pavlovich Reshetnikov with his work captured a whole era - the era of social realism in the USSR. His paintings open the door to the world of honesty, openness, trust. At first glance, they seem commonplace, simple.
But it is worth taking a closer look, looking more closely at the faces - and captures the cycle of thoughts, feelings, and aspirations. Reshetnikov's painting "Boys", which is described above, makes it possible to understand the interest in discoveries and the desire for the unknown of a whole generation.
Related news
Painting Reshetnikova Boys. Description and reasoning image, picture, imagery