Portulaca flowers - decoration of any flower bed
Floriculture is a great hobby
Growing flowers is a wonderful and rewarding activity. Surrounding ourselves with plants, we unwittingly receive a positive charge from our pets. And it is especially pleasant when cares and diligence are rewarded with bright inflorescences. When choosing plants, flower growers strive to create a single composition that will decorate flowerbeds regardless of weather conditions from spring to the first autumn frosts.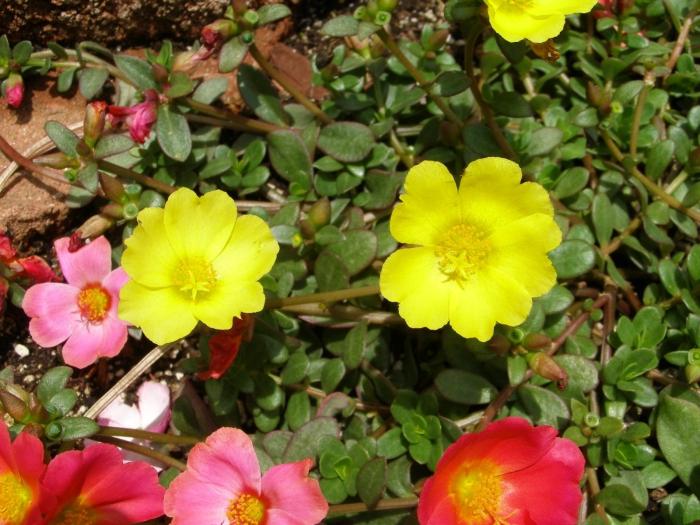 Portulaca flowers
Choosing plants for the garden, very often prefer refined and sophisticated species. Spring splendor of flowerbeds with bright majestic tulips, summer beauties of roses and gladioli are undoubtedly beautiful. But we should not forget about the colors that at first glance do not deserve attention. On close acquaintance, they turn out to be beautiful princesses, who marvelously coexist with their majestic relatives. Portulaca flowers are annual plants that will decorate any flower beds.There are about a hundred species of this plant. They can be divided into vegetable and large-flowered. Homeland of the last plant species is South America. Under natural conditions, these perennial flowers are characterized by slow growth. The creeper has a height of 10-35 centimeters. Under the conditions of the middle band, purslank flowers do not tolerate winter frosts; therefore, they are grown as an annual crop. The plant has creeping stems with a length of 10 to 30 centimeters. The relatively small size allows you to grow these amazingly beautiful flowers not only in flowerbeds, but also at home. They feel great in flowerpots and pots, comfortably seated on the balconies and loggias of city apartments.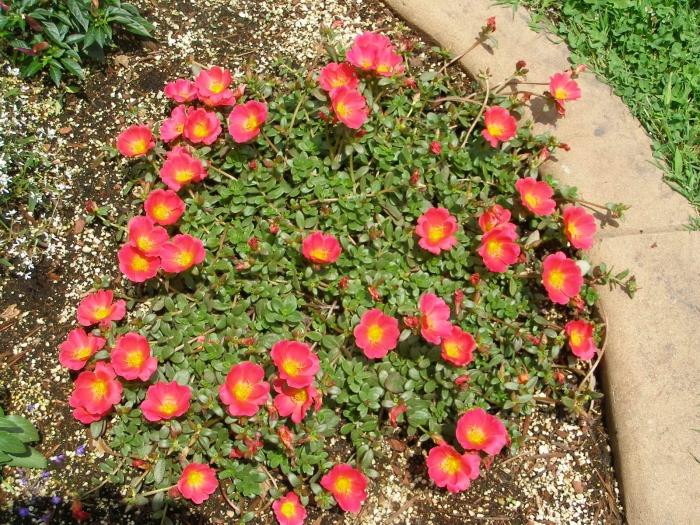 Cultivation and care
Very often flower growers are faced with the fact that bright, colorful pets require the creation of special conditions for growing. Purslane flowers, which are called miniature roses for their beautiful inflorescences, are not a capricious plant, it tolerates heat and drought normally and is not demanding on soil fertility. Sandy and barren soils are excellent for planting. Fertilizer is not necessary. Watering should be moderate.Portulaca flowers - warm and light-loving plant. The main condition for good development and flowering - bright lighting. Placing a purslane on a bed, you should take care that the plants receive enough sunlight and are protected from drafts.
Portulaca breeding
Breed flowers purslane seeds. In the southern areas they are sown directly in the ground in May. For the rest of the areas grown seedlings.
Growing seedlings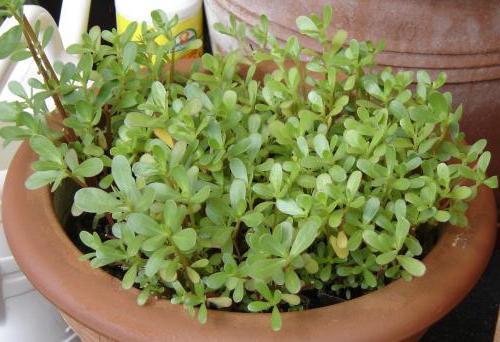 Seeds for seedlings are sown in April. Tanks must have good drainage. Portulaca seed material is rather small. Therefore, it is carefully sprinkled over the surface of the soil in seedling tanks and sprinkled with sand on top, which is moistened. For rapid germination of seeds should be maintained at a temperature of about 30 degrees Celsius. In a less warm room, the emergence of shoots may be delayed. If they are very thick, the plants dive into separate pots.
Planting seedlings in open ground
Willingness of seedlings for planting on beds is determined by the presence of several leaves and plant height of up to 7 centimeters. It can be planted in open ground under the condition of stable warm weather.Lowering the temperature below 10 degrees Celsius leads to the death of flowers. Therefore, no hurry with their landing. Flowering will begin in 1.5-2 months after sowing the seeds and will last until the first frost.
Purslane Seed Collecting
Purslane flowers are grown as an annual crop. Seeds ripen in the first year. In place of the faded flowers, small seed boxes are formed. They are carefully torn off and dried. You should not be late with the collection of seeds, as they get enough sleep.
Portulaca varieties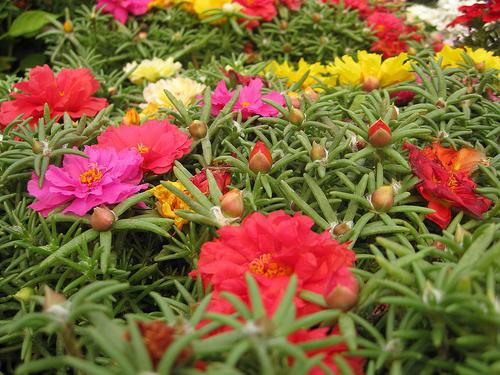 Portulac large-flowered replete with a variety of forms. Varieties of plants have flowers of different colors, and in form they are simple and terry. Portulaca Sonya is a half-sheltered plant. It has flowers of simple shape that delight until late autumn. The plant is stretched to a height of 35 centimeters. Great for decoration of alpine slides, rabatok and flower borders. Portulak Kalambur is a creeping spreading plant that has large bright, multicolored double and semi-double flowers. This is an excellent material for creating carpet compositions.
Related news
Portulaca flowers - decoration of any flower bed image, picture, imagery