Sandwiches with cheese - recipes, cooking features and recommendations
Cheese sandwiches are an excellent appetizer option. They can be cooked for breakfast as well as to decorate a festive table. They are very nourishing and quickly satisfy hunger. That is why you can take them with you on a long journey or offer a child for lunch.
Basically, these snacks are prepared fairly quickly and are suitable for meeting unexpected guests. The simplicity of the composition does not mean that they have a poor taste, on the contrary, they have a bright cheese aroma (especially hot ones) and a delicate flavor of vegetables.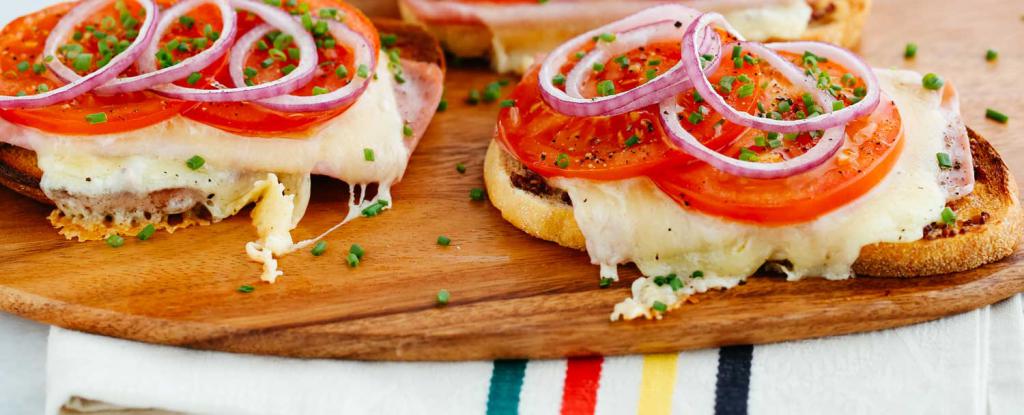 Product selection
In the store should pay attention to the choice of the main ingredient of these snacks. It is best to give preference not to the cheese product, but to the cheese cooked by all standards. Depending on the recipe, it can be durum or pickled. However, for some sandwiches, smoked or processed cheese with the addition of bacon, mushrooms or greens is great.
When buying cheese you need to pay attention to the following:
There should be no liquid in the package, unless it is pickled cheese.
The color of a natural fresh product can be from milky to yellowish brown.
On the surface there should be no stains, weathered areas and especially mold (the only exceptions are Brie, Camembert, Chester and other mold cheeses).
Shelf life should be normal and with a margin, it is not necessary to buy a product expiring.
Other products should also be chosen very carefully and always check the date of manufacture and shelf life.
Necessary inventory
To make cheese sandwiches as quickly as possible, you should prepare the necessary kitchen equipment.
This includes:
2 knives for cutting vegetables and cheese;
2 boards for cutting products (preferably made of wood or glass);
grater with cells of different sizes;
1-2 deep bowls;
tablespoon or fork;
paper towels for the kitchen;
portion plate.
For making hot sandwiches you will need an oven, a baking tray, a couple of tacks and a spatula.
Recipes
There are a huge number of recipes for sandwiches with cheese. After all, they can be made of almost all products, one has only to show imagination.However, many hostesses prefer a few, loved for simplicity, taste and speed of preparation.
Homemade sandwiches
Egg and cheese sandwiches can be prepared in an unusual way from the following ingredients:
1 black bread in cutting.
8 g dried garlic.
1 small bunch of greens.
200 g soft cheese (brine).
5 chicken eggs.
100 g sprat in butter or dried meat.
Sandwiches with egg and cheese can be prepared according to the instructions.
Eggs are boiled, cooled and cleaned. After they are cut along the ovals.
Cheese without brine is transferred to a deep plate;
Greens are washed, dried and finely shred.
Cheese and herbs with garlic are mixed together and thoroughly mixed until a homogeneous mass.
Bread is smeared with cheese base, the second layer is laid egg and last of all - sprats or meat.
Such a treat is decorated with buns of parsley or olives with olives. On the table they are recommended to be served on a dish with lemon slices. They serve not only as an additional decoration, but also give citrus notes in taste and aroma.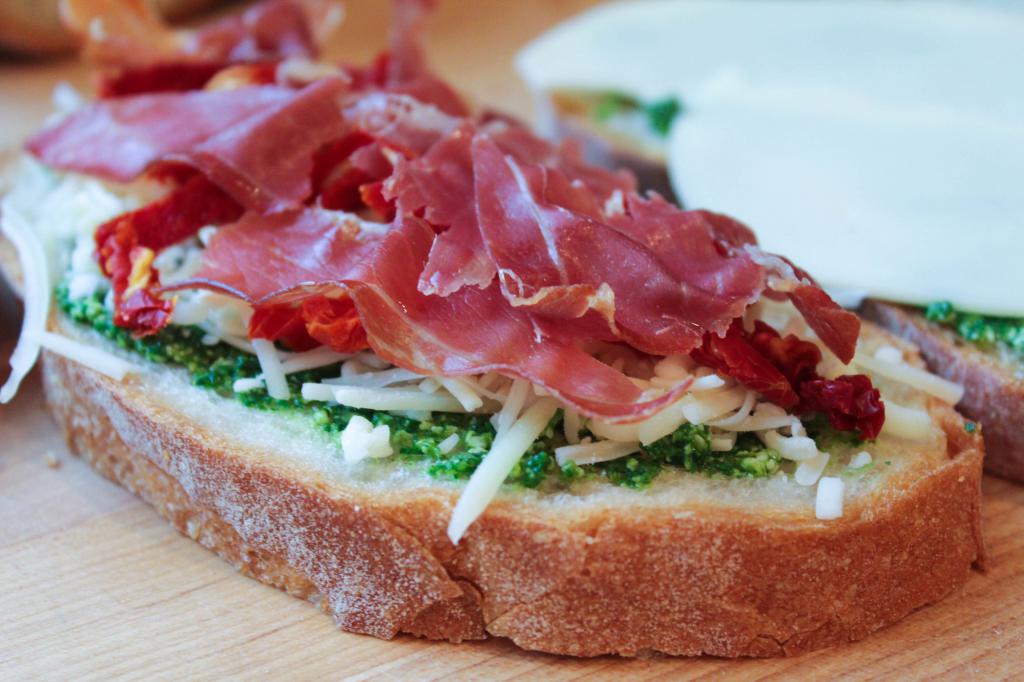 Cheese appetizer in the garlic oven
Sandwiches in the oven with cheese can be prepared from the following set of products:
1 white loaf;
40 g butter;
50 g fresh garlic;
200 g of durum cheese.
Additionally, you can use black pepper, salt and dill.
Before the start of cooking, the oven is turned on, it should warm up to 220 degrees.
The loaf is cut into thin slices about half a centimeter.
Garlic is peeled and minced through a special press.
In a separate bowl, the butter softens slightly. To do this, it is enough to hold 30 minutes at room temperature.
Garlic is added to it, everything is thoroughly mixed, and the resulting mass is applied with a thin layer on the bread.
Each sandwich is sprinkled with cheese and put on a baking sheet.
If greens are used, they are washed, dried and chopped, further mixed with cheese.
The baking sheet with preparations is put in the heated oven for 6 minutes.
After the cheese has melted and reddened, the sandwiches are removed and laid out on a la carte plates.
This snack has a pleasant creamy taste and aroma with a small whip. You can decorate with olives, pickles or fresh parsley.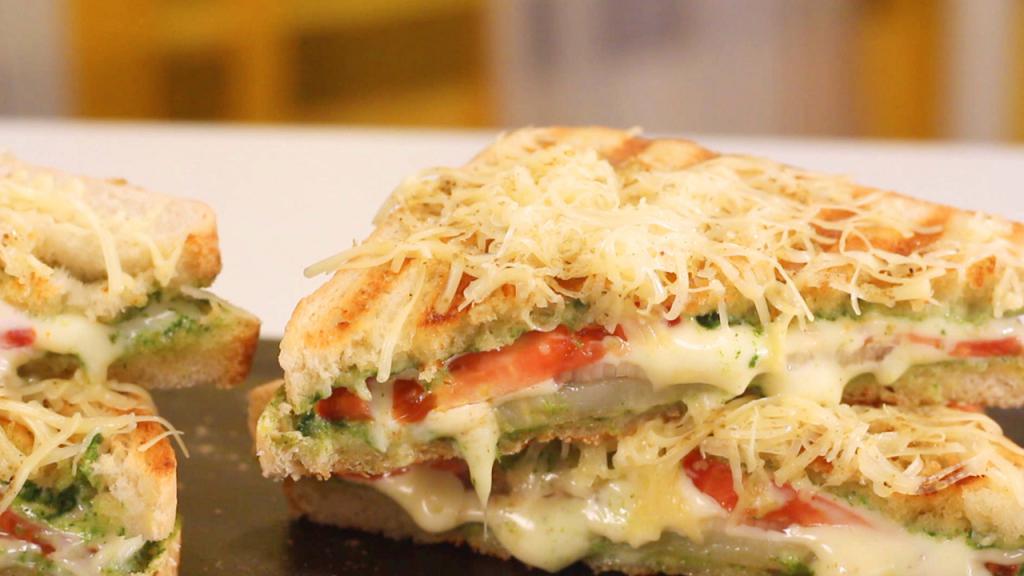 Pizza Sandwiches
Such sandwiches with cheese and vegetables are prepared with a pizza filling. They will not leave indifferent admirers of such a delicacy.
This will require:
1 white loaf in cutting;
100 g tomatoes;
4 chicken eggs;
70 g paprika;
90 g of processed cheese;
20 g of dill;
60 g of mushrooms (canned);
80 g smoked sausage.
Sandwiches with tomatoes and cheese can be prepared according to the following step by step instructions.
Vegetables with herbs washed and dried with paper towels.
Tomatoes are cut into small cubes, Bulgarian pepper chops into thin sticks. Dill is ground with a knife.
Eggs are boiled so that the yolk is hard. After they are cooled in cold water, cleaned and crushed on a grater with large cells.
Champignons are removed from the jar and, if necessary, washed in running water for a short time. Then they are cut into small pieces.
Sausage is cut into small thin cubes.
All prepared ingredients are mixed in one plate, and the released juice is drained from the tomatoes.
Cheese is added to the ingredients and everything is thoroughly mixed, seasoning if necessary.
The mass is applied to pieces of bread and placed in the microwave for a couple of minutes.
On the table, such a snack is served cold. It is very similar to pizza in taste and flavor, but it looks unique.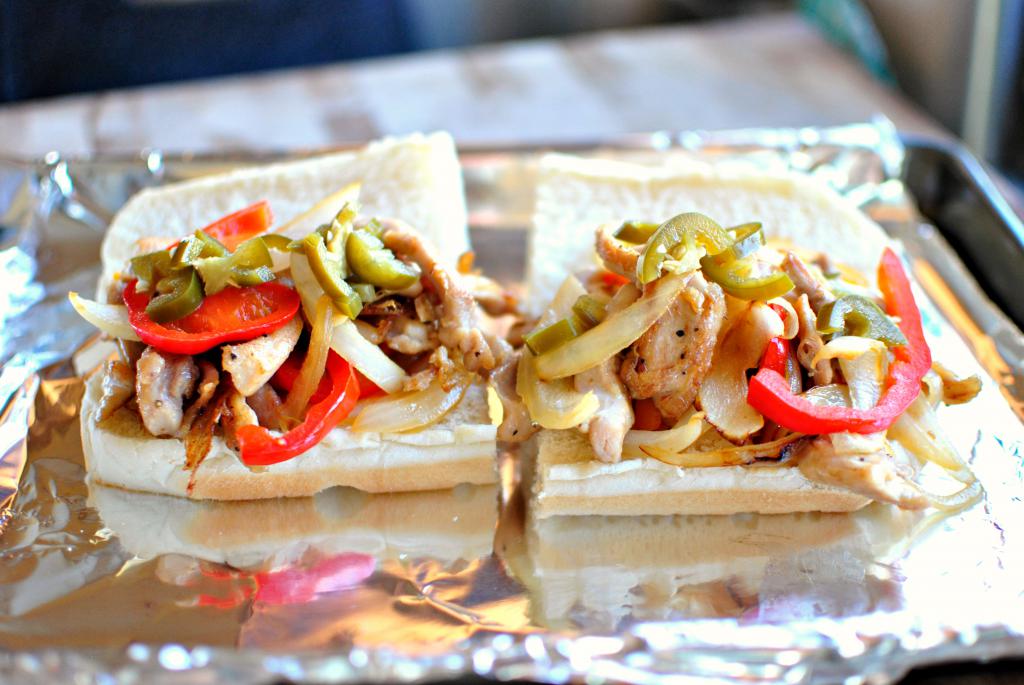 Hot sandwiches with greens and cheese
In the oven, hot cheese sandwiches can be prepared from the following set of products:
1 long loaf sliced ​​(white);
1 small tuft of onion feather;
10 g of garlic;
160 g of durum cheese;
30 ml of medium fat sour cream;
20 ml of mayonnaise.
From the spices you will need salt and crushed black pepper in the required amount to give the usual taste.
Garlic is peeled and washed with onions. After that, they are dried with paper towels and crushed. Onions are shredded into small ringlets, and garlic is passed through a press.
The cheese is removed from the package, the paraffin crust is peeled off, and it is ground on a grater with large cells.
Cheese, garlic and onion are put into a deep plate. Everything is thoroughly mixed and seasoned.
After that, a portion of mayonnaise and sour cream is added to the mass and ground to a homogeneous gruel without lumps.
On the bread with a knife or other table object is applied with a small layer of curd and evenly distributed over the surface.
The blanks are laid out on a baking sheet and placed in an oven preheated to 180 degrees.
After about 6 minutes, the cheese hat will be covered with a beautiful ruddy crust, which means it's time to get them. The baking tray is taken out with the help of tacks, and the sandwiches are shifted to the portion dish with a spatula.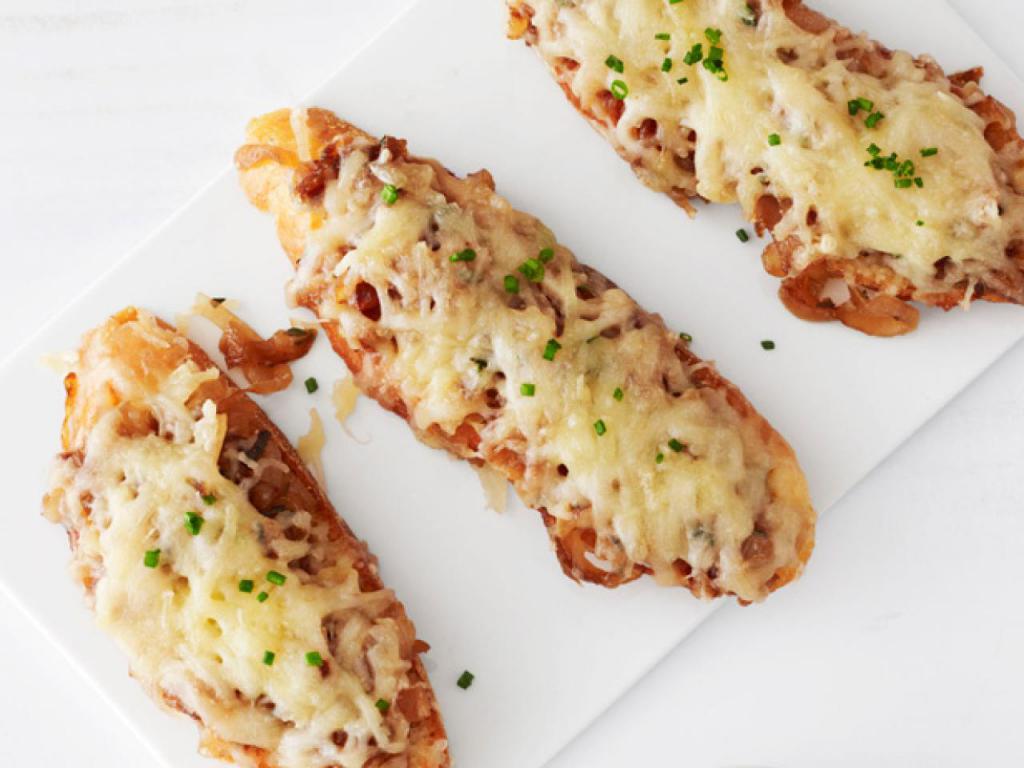 Useful tips
A clove of garlic can not pass through the press, and finely chop into cubes.
For cooking, you can use several varieties of cheese, so the taste will be unusual and multifaceted.
Bread base for hot sandwiches can be pre-poured with melted butter, this will give the snack a delicate flavor.
In the cheese base, you can add meat or sausage, so the sandwiches will be tastier and more satisfying.
In order not to burn the lower part of the hot appetizers, the baking sheet should be covered with parchment or food grade aluminum wrap.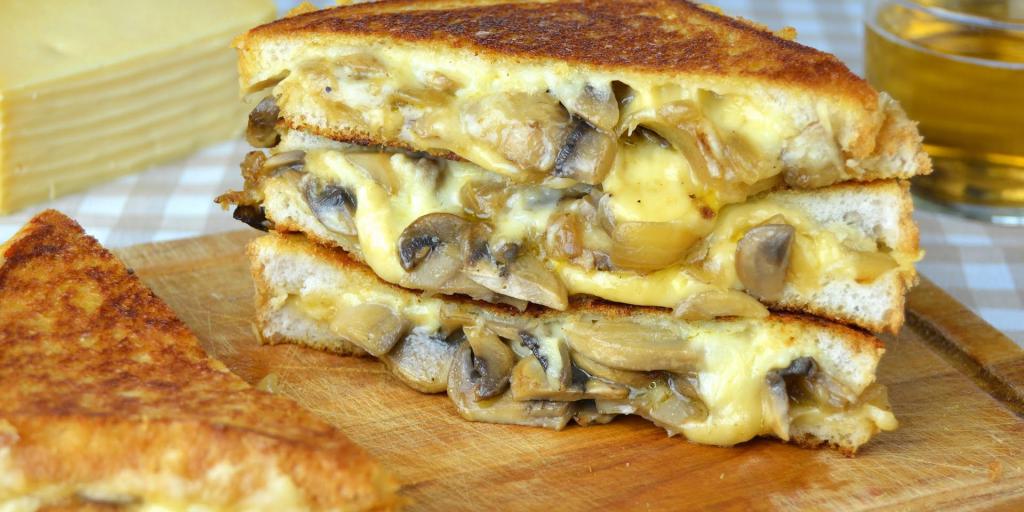 The calorie content of cheese sandwiches is different and depends on the ingredients. They can be cooked with greens and butter, and then they will contain about 345 kcal, and you can add stuffing with dried meat or sausage, and then they will be about 520 kcal. For each dish, it is best to separately calculate calories. To do this, you need to weigh all the ingredients and with the help of special applications to calculate the calories.The advantage of this calculation is that it additionally calculates the content of proteins, fats and carbohydrates per 100 g of ready-to-eat snacks.
Sandwiches with cheese are perfect for meeting guests, breakfast or decorating the festive table. They prepare quickly and have a very pleasant taste and aroma.
Related news
Sandwiches with cheese - recipes, cooking features and recommendations image, picture, imagery