The best knives for home cooking
Today, the market of kitchen utensils is ready to provide a rich assortment of knives of any quality and purpose. Before making a choice in favor of a cutting tool, it is worth considering some nuances that may affect the life and quality of the product.
Each hostess has in her kitchen several representatives of the cutting tool. But there is always the best knife she uses when performing any operations. It is necessarily sharp, has an optimum blade length, and a comfortable grip. Not the last role is played by the thickness of the cutting blade. It should be durable, smooth, have a smooth surface.
The choice of kitchen knives: what needs attention
The market for kitchen knives is quite diverse. You can choose a single knife, or give preference to the set.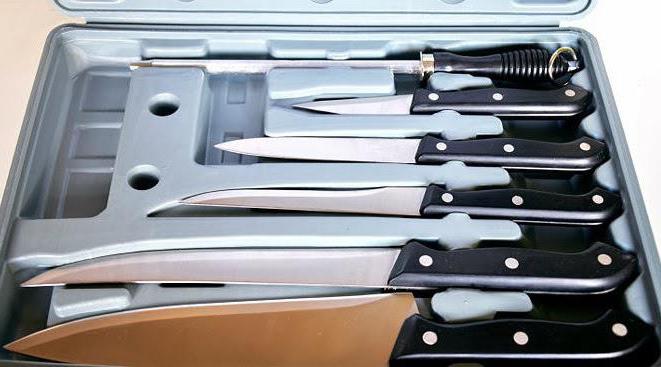 It incorporates several different-sized knives, kitchen scissors, sharpened, a stand for the entire cutting tool. What moments need to be considered when buying a knife, so that the process of cooking gives you only pleasure?
1. The material from which made the cutting part of the knife.Kitchen knives can be made of various materials. Of the most common in the manufacture of the blade should be highlighted: steel, ceramics, titanium.
2. Features of the material for the manufacture of the blade.
3. Scope, namely, what products can be cut with a knife.
4. Resistance to external factors.
5. The term preservation sharpening.
And then there is the difficulty in choosing a kitchen assistant. Which knives are better, which one to give preference - you can learn from the information presented below.
Steel knives
High-tech anti-corrosion steel. Used in the manufacture of blades for knives for any purpose. Manufacturers love this material because of the ease of processing, the quality of the final result. Often steel knives have double-sided sharpening. The Japanese prefer to use anti-corrosion steel and nickel alloy in the manufacture of blades. This greatly improves the performance of the cutting tool.
The best kitchen knives are also made from carbon steel. They have a relatively low price. Well amenable to sharpening. Among the disadvantages are the susceptibility to corrosion,the taste of metal on food, the property to darken.
Stainless steel is superior in performance to carbon steel. Of the benefits you need to emphasize the absence of corrosion, lack of care in the care. Of the drawbacks, there are obvious demands for frequent sharpening, as a result of which the blade is thinning.
High carbon steel combines the advantages of carbon and stainless. Differ in blade density and the ability to hold sharpening for a long time. Resistant to rye and corrosion.
Steel is widely used not only in the production of kitchen knives, but also for the manufacture of tourist equipment.
Ceramic cutting tools
Ceramics has gained great popularity among Japanese manufacturers. The best knives are made of this material.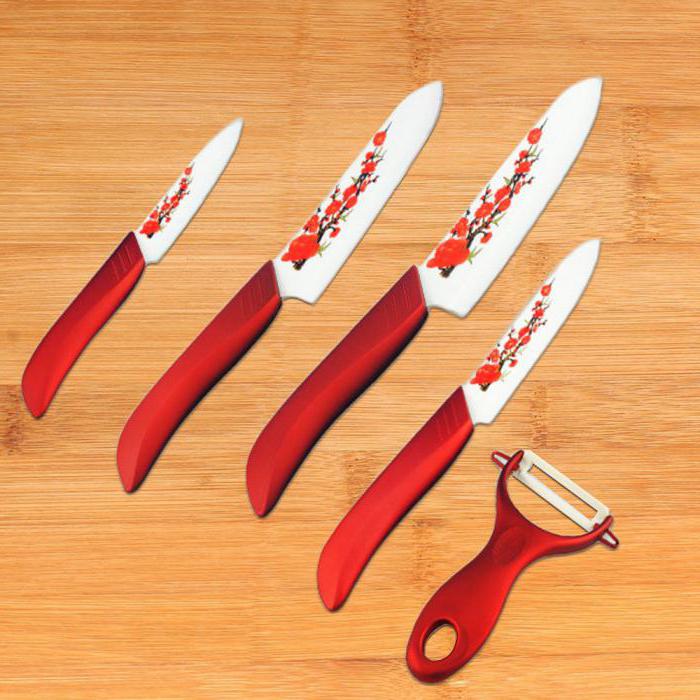 Ceramic coating blades has several advantages, of which it is worth highlighting:
⦁ coating hardness;
⦁ sharpening quality - ceramic knives can be sharpened once a year;
⦁ easy to wash due to the density of ceramics;
⦁ relatively low weight;
⦁ resistant to rye, oxidation, magnetic effects;
⦁ the surface is scratch resistant;
⦁ There is no taste of metal, which is often transmitted to food.
Like any product of production, ceramic knives have a number of drawbacks, of which fragility, limited scope of use, the impossibility of sharpening their own hands, the price range can be noted. Although if we compare ceramic knives with knives made of another material, its price is justified.
Titanium knives in the home kitchen
In the production of kitchen utensils often use titanium alloys. Kitchen knives are no exception.
Titanium is known for its paramagnetic properties, absolutely neutral when in contact with any food. The surface of the knife has a protective oxide film, as a result of which titanium does not oxidize.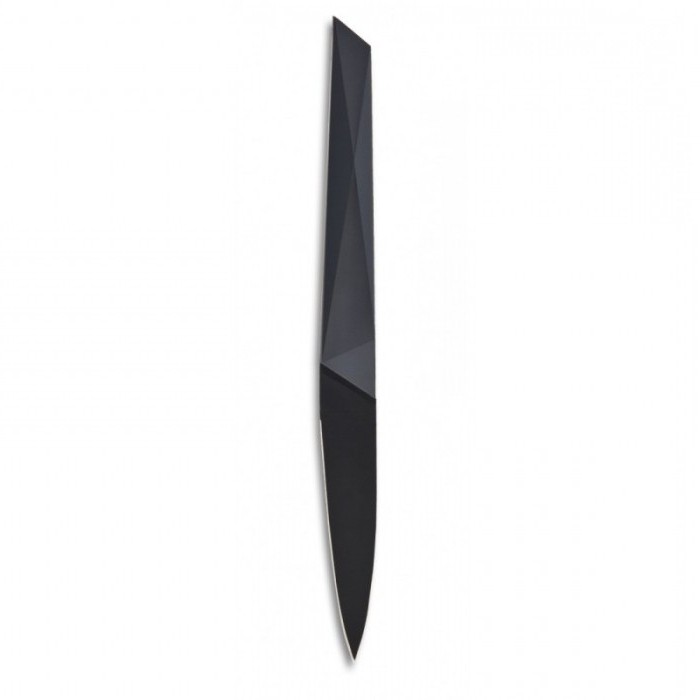 The best knives from titan are resistant to corrosion, are not exposed to mechanical influence. Hypoallergenic and non-toxic. Titanium alloys are also used in the manufacture of medical devices. Silver ions included in the alloy provide antibacterial properties of the product.
Knife classification
Professionals of high cuisine believe that any kitchen should have a "cook three" of knives, namely: chef, universal,vegetable. These are the three main knives, on the "shoulders" of which lies much of the work of cooking.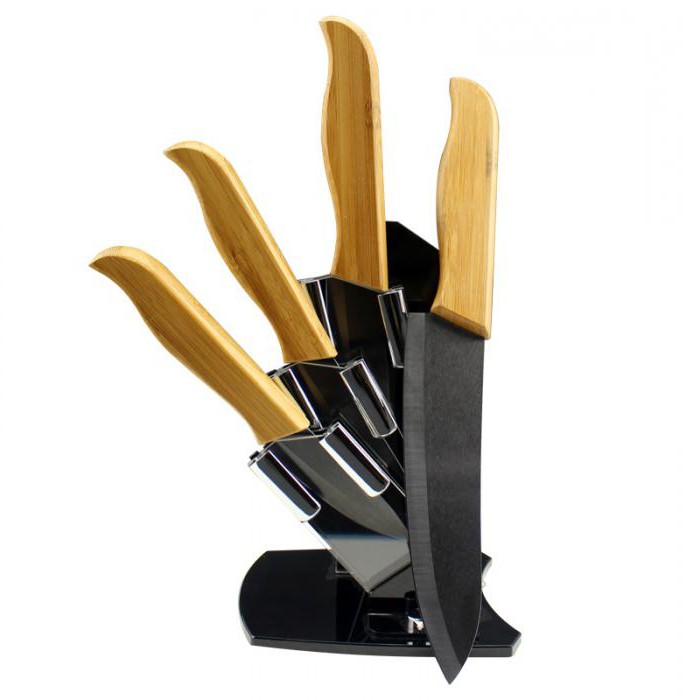 Chef knife has a standard blade length of 20 cm. It has a universal cutting edge, which leaves an even cut. Used for cutting food, cutting greens and spices. Received application in the preparation of fish dishes.
The best knives from the vegetable series are tools with a short blade (up to 15 cm long). Their purpose is to remove the peel from vegetables or fruits. Equipped with a thin tip of the tip, for ease of picking out the "eyes". Some manufacturers prefer to make the shape of a knife curved, claw-shaped. This is necessary when cleaning round fruits and root crops.
Vegetable knives with a short blade (up to 10 cm) - a great option for the first knife for a child who wants to be independent. They have a comfortable handle rounded sizes. Easy to fit in the palm of your hand. Do not roll over.
The best universal knives are designed to perform a large number of operations: cleaning fruits and vegetables, cutting sausage or cheese products. True, for shredding cabbage or cutting meat, these knives are a bit uncomfortable, as they are equipped with a short blade.
In addition to the "cook troika", each hostess has a number of additional knives designed to perform certain operations. There are a number of them that are optional, but are found in the home kitchen:
⦁ fillet knife - equipped with a narrow blade up to 20 cm long, used for cutting pieces of meat or fish;
Вет ham knife - equipped with a blade up to 25 cm in length, used for cutting ham and ham;
⦁ cheese knife - is a tool with a thin blade, equipped with a serrated edge with a forked tip;
⦁ knife-saw - has a blade up to 30 cm long, used for working with frozen products;
Том knife for cutting tomatoes - has a blade with a dissected blade 15 cm long, used for cutting fruits, vegetables with dense skin and delicate pulp;
⦁ kitchen hatchet - has a blade up to 18 cm and is used for butchering meat products.
The choice of specialized knives is great. Each hostess can be limited to the minimum set of kitchen knives or to supplement their set at their discretion.
Rules for using knives
In order for the knives to serve you faithfully for a long time and at the same time retain their physical characteristics, you need to follow a number of requirements when using.
Many manufacturers of kitchen knives say that they should not be washed in a dishwasher. Immediately after use, wash the knife with your hands under running water, then wipe dry.
Keep cutting objects away from other kitchen utensils.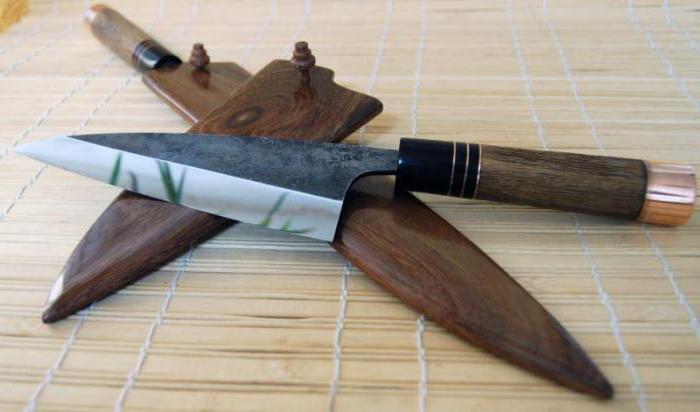 When using knives, it is better to use wooden cutting boards, or to give preference to soft plastic boards.
For cutting meat, use specially designed knives. In their manufacture, material of a different class and quality is used, which ensures the service life and the quality of the final result.
Knives of good quality should be sharpened only by a specialist. Often it is the home sharpening with their own hands does great harm to the cutting object, after which it is quite difficult to restore the cutting qualities of the object.
Related news
The best knives for home cooking image, picture, imagery