Wedge-shaped defects of teeth: causes of occurrence and methods of elimination
Wedge-shaped defects of teeth are a fairly common pathology, which has nothing to do with caries. Most often the problem is observed from the front of the upper or lower jaw. At the gum, the neck of the tooth becomes thinner and resembles a small "step". Besides the fact that such a lesion violates the aesthetic appearance, it can lead to serious inconveniences during chewing food.
The causes of the pathology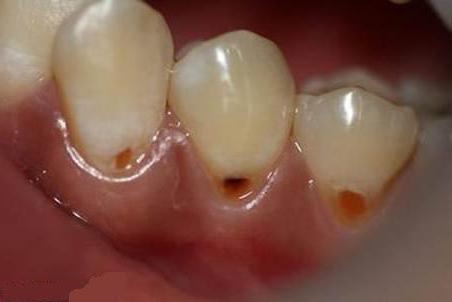 Wedge-shaped defects of teeth can occur for various reasons. In general, dentists believe that the disease can develop due to the general unhealthy state of the body, calcium deficiency, impaired functionality of the central nervous system, gastrointestinal tract. Damage becomes more noticeable after erasing enamel and hard tissue during mechanical action. The most susceptible pathologies are those who have the wrong bite. You also need to pay attention to the choice of whitening pastes that contribute to damage to the enamel.And the cause of the disease can be called a violation of the thyroid gland.
Symptoms of the disease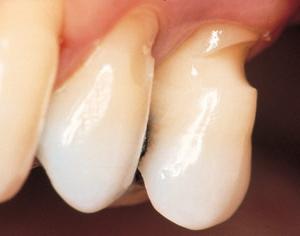 Wedge-shaped defects of the teeth to identify quite simple. At the initial stage of the development of pathology, a person may feel hypersensitive to cold and hot dishes, as well as mechanical stimuli. With a progressive process, a decrease in the thickness of the tooth neck and the appearance of cracks on the enamel are observed. Moreover, these injuries are quite deep. If the disease is started and not treated, small fragments will break off from the teeth. For this reason, it is difficult to chew food, the sharp edges of the enamel scratch the inner surface of the cheeks. It should be noted that the development of pathology occurs very slowly, so only an experienced specialist can notice it in the initial stages. Wedge-shaped defects of the teeth require careful and urgent treatment. Otherwise, the patient's smile may not be very beautiful.
Therapy
Treatment of a wedge-shaped defect should be carried out not only by eliminating aesthetic effects. The fight against the disease must be complex and include a therapeutic effect on the cause of its occurrence.To do this, you can use drugs, ointments, infusions, as well as various dressings that need to be applied to the affected part of the enamel. However, these methods help only for a short time to eliminate pain and hypersensitivity. For large cracks, you should use special cementing agents that strengthen the structure of the tooth. Naturally, during treatment, you should abandon the whitening pastes and hard brushes. If the damage to the tooth is deep enough, then crowns can be used to eliminate it. In too advanced cases, the wedge-shaped defect cannot be eliminated by traditional methods and requires qualified prosthetics. If the treatment is not started on time, the patient may lose not only sick, but also healthy teeth.
Related news
Wedge-shaped defects of teeth: causes of occurrence and methods of elimination image, picture, imagery